A Mr Rant artistic ass shot
Today's beach day was impressive, amazing even. No it was not because of the amazingly hot sun or the surprisingly decent amount of space for a Sunday. It wasn't even the crystal clear water, though it has been a damn long time since I've seen that in Rio de Janeiro.
Nope, it was the asses! It has been a LONG time since I have seen that many hot bodies congregated in one area that is not Posto 9 (post 9 in Ipanema). When I visited Rio in 2003 all beaches had enough hot bodies hanging around to be a significant motivator for a Monday morning gym visit. Oh how the times have changed. Now I find that the bodies are, while still impressive in the barely there swimming attire, quite normal. The majority have cellulite, bellies, sagging here and there, and generally look like a normal population of people.
Not today my friend. There was a significant amount of "HOLY CRAP" bodies hanging out. Mr Rant and I were in such a state of shock at the abnormal representation of hotness that we didn't even bother trying to suck in our stomachs. Who am I kidding, I gave that game up about two children ago. Of course we did have a lot of fun trying to take photos on the downlow. By the way, Mr. Rant has much better creepy photographer skills. Don't know if that should make me proud or not…
Here's our photo booty:
Check out this set of asses. They are a couple and have a child. A child! She should be notified that she is making us other Moms look bad… as well as many childless women. He should keep up the good work.
Excuse the lack of centering. I obviously took this photo
Sadly he turned. I had to take this from a distance and didn't dare try again because I was starting to look like a desperate stalker. I looked like it or am one. You say potato and I say Not a Stalker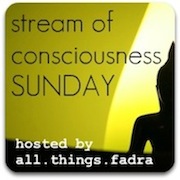 This was my 5 minute Stream of Consciousness Sunday post. It's five minutes of your time and a brain dump. Want to try it? Here are the rules…
Set a timer and write for 5 minutes.
Write an intro to the post if you want but don't edit the post. No proofreading or spellchecking. This is writing in the raw.
Publish it somewhere. Anywhere. The back door to your blog if you want. But make it accessible.
Add the Stream of Consciousness Sunday badge to your post.
Link up your post.
Visit your fellow bloggers and show some love.